Leadership and service are two of the pillars of the Park program and Taufik Raharjo '16 was fortunate enough to be able to investigate both during a weekend this spring.
Raharjo attended the 2013 Atlantic Coast Conference Leadership Symposium in April, hosted by Boston College. This annual conference is funded by the ACC and invites five students from each of its member institutions to attend and participate in a series of simulations and projects. This year's event focused on "achieving civic change through leadership and service."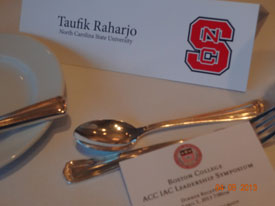 In the fall of 2012, Taufik joined the advisory board for Feed the Pack, a food pantry created to serve members of the NC State community who are dealing with food insecurity. Feed the Pack is growing rapidly: it is located in Harrelson 379 and has given out over 800 pounds of food since opening this past Thanksgiving. As a student advisory board member, Raharjo oversees the day to day operations of the pantry and serves as a liaison between the student leadership team and the other members of the board.
In Boston, Raharjo participated in LIFTopolis, a simulation run by the nonprofit organization LIFT Boston in which students assume the identity of a poverty-stricken individual and have to navigate the "city" in order to achieve their life goals. Tasks included interviewing for jobs, acquiring documents from a city hall, and interacting with realty companies and social service agencies. LIFT Boston works with actual clients in the Boston area to accommodate their food, housing, healthcare, and other essential needs.
Raharjo also presented a group initiative entitled Urban Redevelopment in a Sustainable Society at the conference, representing his interests in environmental awareness and energy efficiency.
"The ACC Leadership Symposium provided me with a great background on the world's most pressing social and scientific issues, as well as a better understanding of how to be civically engaged," says Raharjo.
As a materials science and engineering major, Raharjo plans to pursue a career in the field of alternative energies and sustainable materials, while maintaining his passion for thwarting food insecurity and urban poverty.