The Class of 2016 participated in the 28th annual Emerging Issues Forum at the Raleigh Convention Center. This year's theme focused on the next phase of manufacturing in North Carolina — a creative and innovative industry featuring advances such as 3-D printers.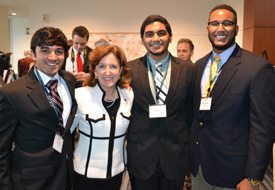 U.S. Senator Kay Hagan with Parth Shah '16, Sid Jandhyala '16, and Marcel Souffrant '16.
Students had the opportunity to interact with featured speakers such as Dow Chemical Company Chief Executive Officer Andrew Liveris, U.S. Senators Kay Hagan and Richard Burr, and White House Office of Science and Technology Policy Assistant Director of Advanced Manufacturing Tom Kurfess.
"I really enjoyed the presentation on crowd-funding by the creator of Indiegogo," says Leanne Nieforth '16. "It will help spawn innovation and motivate people to try and accomplish their new ideas."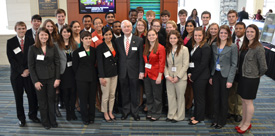 The Class of 2016 with former North Carolina Governor Jim Hunt.
Park Scholars attend the Emerging Issues Forum each year as part of the First-Year Seminar, a course designed to expose students to interdisciplinary topics, leadership, and service. Institute for Emerging Issues Fellow John Coggin '09 met with the class prior to the event to help prepare the students for the educational experience.
"I feel that the conference provided me with a much more well-rounded perspective on manufacturing not only in North Carolina, but also in the United States and around the world," says Melissa Pressley '16.