What started as a dare between friends in 2004 has grown into one of the largest annual events at North Carolina State University, drawing thousands of competitors to Raleigh each year. The 2013 Krispy Kreme Challenge involved a record 8,000 runners and raised over $170,000.
Over the course of the nine year history of the Krispy Kreme Challenge, the organization has donated a total of over $550,000 to the North Carolina Children's Hospital — a state-of-the-art facility that serves over 70,000 children from across the state annually.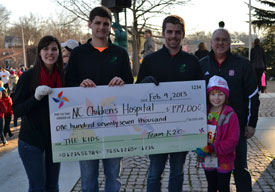 Krispy Kreme Co-Chairs Emily Bissett '14, Rusty Mau '14, and Joshua Chappell '14 with NC State Chancellor Randy Woodson and North Carolina Children's Hospital patient Ashley Burnette.
"It is incredible that a crazy college dare has evolved into a nationally-recognized event which has raised over half a million dollars for a very worthy cause," says event co-chair Rusty Mau '15. "None of this would have been possible without the dedication and hard work of our planning committee as well as the continued support of the Park Scholarships program."
The event is aptly described as a grueling test of "physical fitness and gastrointestinal fortitude." Challengers started at the Memorial Bell Tower and ran 2.5 miles to the Krispy Kreme store at the intersection of Peace and Person streets, consumed one dozen glazed donuts, and then ran the final 2.5 mile leg back to the NC State campus.
Two years after its start, the Krispy Kreme Challenge was ranked as #85 on Sports Illustrated's "102 More Things You Gotta Do Before You Graduate" list.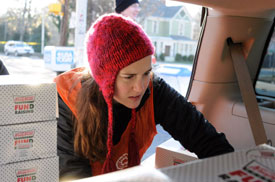 Race volunteer Sarah Guess '14 helps stock the donut station. Photo courtesy of the Technician.
Many of this year's participants chose to wear costumes for the event. These ranged from Pac-Man and a Spartan soldier to wedding dresses and tuxedos. The ages of the runners also represented a wide spectrum, from college students, to families with strollers, to senior citizens.
"The Krispy Kreme Challenge truly reflects the service-minded nature of the Park Scholarships program and NC State University," says event co-chair Joshua Chappell '14. "Seeing the work of over 50 dedicated committee members come together on race day was truly inspirational and is an experience we will never forget."
Story by Lindsey Rosenbaum