To be successful in a company like Red Hat, the world's leading provider of open source technology, one needs passion, and neither Jordan O'Mara '07 nor Jason Wong '06 is short on that. The two Park Scholar alumni have done very well in pursuing their passions for intellectual property and communications.
While at NC State, Wong, a senior consultant for Red Hat, worked with the Engineering Entrepreneurs Program, while O'Mara, a senior software engineer, spent countless hours in the Open Courseware Lab. Both agree that their NC State and Park Scholarships roots are the springboards that propelled them to the positions that they now enjoy with their dynamic company.
"One of the things that appealed to me about Red Hat was that everything was done the 'open source way.' I'm a firm believer in the idea that open collaboration and communities not only foster better results, but also help contribute to the common good," Wong says. "Coincidentally, I believe this is very similar to what the Park Scholarships program strives to teach each scholar, so it only seemed a natural fit."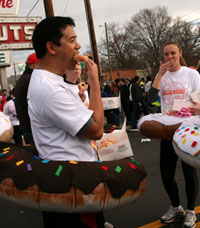 Jason Wong competes in the 2012 Krispy Kreme Challenge.
The accessibility of mentors and academic enrichment was instrumental in the undergraduate careers of both O'Mara and Wong. In the Open Courseware Lab, O'Mara worked closely with Michael Rappa in the Department of Computer Science. Wong collaborated with a group of like-minded individuals in the Engineering Entrepreneurs Program to create a working prototype of a product and develop a business plan to sell it.
Recently, the two alums and Red Hat underwent a move — a large-scale four mile haul from NC State's Centennial Campus to 100 East Davie Street in downtown Raleigh, a property that previously housed Progress Energy. O'Mara admits he has a bit of a sentimental attachment to the offices that were once located at his alma mater, but he does see the value in such a large move.
"I will certainly miss NC State's campus, but it's a great time to bring Red Hat downtown. Raleigh's downtown has been rapidly expanding over the last few years, and bringing 900 young folks to the area will be great for that growth," says O'Mara.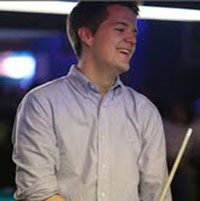 Red Hat senior software engineering Jordan O'Mara.
Both O'Mara and Wong continue to support Park Scholarships through their ongoing availability as mentors to current Park Scholars. In addition, they both view their positions at Red Hat as manifestations of their desire to give back to the community.
"The focus on supporting communities through service aligns closely with the Red Hat mindset of doing things the open source way and being a catalyst within the community," says Wong.
Story by Chad Smith