As a Park Scholar, Laura Parham '04 learned to value service to others. Her interest in humanitarian efforts has led her to Ethiopia to work for the Center for National Health Development (CNHDE) through GlaxoSmithKline (GSK).
For Parham, the company's PULSE program was a perfect fit. PULSE allows employees the opportunity to work with a non-profit or non-governmental organization for up to six months. In the process, GSK employees make a difference in communities while developing as leaders.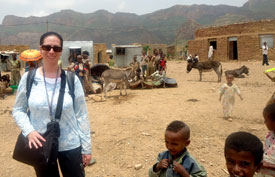 Laura Parham in the city center of the Millennium Village in Koraro, Ethiopia.
"The unique thing about the PULSE program," Parham says, "is that it offers volunteers the opportunity to use their professional skills in a very different environment, yet continue to have a positive impact on health-related issues."
According to GSK, since the launch of PULSE in 2009, nearly 300 GSK employees have volunteered with 70 organizations in nearly 50 countries.
Parham's employment at GSK began in 2006 when she was hired as a statistical genetic analyst. Five years into her tenure, she was given the opportunity to work for the CNHDE, a project of the Earth Institute at Columbia University. CNHDE supports efforts leading to the achievement of the United Nations Millennium Development Goals in Ethiopia. Activities in that country focus on assisting with the implementation of the Health Extension Program and coordinating the Millennium Villages project.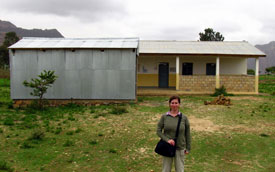 Laura Parham outside a rural health post in Ethiopia.
"Many public health concerns that exist today, including those that are being served by GSK's current PULSE partners, are disproportionately affecting people in developing countries," says Parham. "These issues — from clean water access, to more complex issues of healthcare and education — are in need of innovation and critical thought to help define the problems and begin to work towards economical, sustainable interventions."
Following her graduation from NC State with a B.S. in Statistics, Parham received a M.S. in Genetic Epidemiology at the Washington University School of Medicine in St. Louis. She plans to continue working in science and health to positively impact others across the globe.