Caroline Ellington '13 recently completed a research internship in Aachen, Germany. The internship, sponsored by UROP International, consisted of 40 students from the United States and Canada and involved individual research projects and intensive German language instruction. As a senior in textile engineering with a concentration in product development, Ellington developed biocomposite yarns from renewable, raw materials.
As petroleum continues to become scarcer, the environment could potentially be affected in a variety of ways. A lack of petroleum could impact the textile industry because of the large amount of synthetic fiber that is made from petroleum-based materials. This issue is causing the textile industry to push toward more sustainable practices.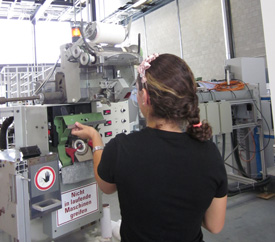 Caroline Ellington in the laboratory creating rotor spun yarns.
One initiative includes creating yarns from renewable, raw materials, which would replace synthetic yarns that are more environmentally costly to produce. Ellington's research in Aachen focused on exactly that. Her work was with flax fibers and PLA (Polylactic Acid) fibers that made yarn using the rotor spinning technique of linear yarn production.
Flax is a naturally occurring fiber and PLA is a derivative of corn starch, both of which are biodegradable. After yarn production was complete, Ellington ran various mechanical and physical tests on the yarn and analyzed the results. Ellington found conclusive evidence that blended yarn achieved better results than traditional yarns. The analysis and observations that she completed on her yarns will be further used at Aachen University to explore possible uses and properties of such yarns.
"My textile engineering curriculum has taught me what a truly global industry textiles is," says Ellington. "During my time in Vietnam I learned about the importance of communication in the different tiers of the textile supply chain, and in Germany I was focused on a much more technical aspect of the textile industry — the research and development of new, renewable products."
In addition to her research, Ellington learned more about German culture through participating in German language courses and living with German students.
In her time at NC State as a Park Scholar, Ellington has pursued her passion for international travel. After graduation, Ellington intends to work in the golf clothing industry to combine all of her true passions: golf, textiles, and entrepreneurship. Her dream is to one day own her own business that will design and produce golf clothes for men and women.