NC State University recently launched the University Faculty Scholars program and named the first group of faculty with this honor.
Over the next five years, each of these 24 faculty members will receive $50,000 to be used toward academic initiatives. The program is funded by over $5 million in charitable gifts from Jim and Ann Goodnight, and the William R. Kenan Jr. Charitable Trust.
The University Faculty Scholars program is part of Chancellor Randy Woodson's initiative to invest in outstanding faculty members as outlined in The Pathway to the Future: NC State's 2011-2020 Strategic Plan.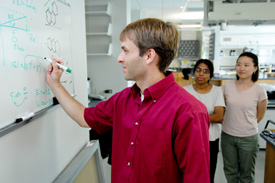 Michael Dickey in his lab where he works with students to develop alternative micro- and nano-fabrication techniques.
A total of seven current or former Park Faculty Mentors are part of the inaugural group of University Faculty Scholars:
Michael Dickey, assistant professor of chemical and biomolecular engineering
Rob Dunn, associate professor of biology
Amy Grunden, associate professor of microbiology
Jason Haugh, professor of chemical and biomolecular engineering
William Hunt, associate professor of biological and agricultural engineering
Elizabeth Loboa, associate professor of biomedical engineering
Heather Patisaul, assistant professor of biology

Park Faculty Mentors encourage Park Scholars to engage in research, craft postgraduate plans, develop grant proposals, attend professional conferences, and seek internships.
"One of my goals is to get undergraduate students excited about their discipline," says Park Faculty Mentor Michael Dickey. "For the students who work in my lab, I try to foster a sense of independence and creativity that helps get the students energized about their projects and science in general."