The Class of 2015 visited Washington, D.C. to explore the impact that an average citizen can have on policy-making decisions at the federal level. Through focusing on areas including the media, advocacy, and the legislative process, students gained a deeper understanding of how citizens can influence their government.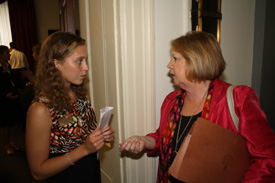 Margaret Leak '15 with Betsy Bossart, District Director, Office of U.S. Representative Steny Hoyer (D-MD) in the Cannon House Office Building.
Park Scholars participated in conversations with individuals representing organizations and government entities such the Center for Public Integrity, PolitiFact, the Supreme Court, and the United States Congress. The students learned about the roles of legislative staff and lobbyists, as well as how party politics impacts the workings of Congress. The class also gained insight into the power of money and the value of a single vote during political elections.
"We wanted to get down to the heart of how citizens can make an impact on policymaking in Washington, and I can confidently say our class has a much greater understanding of how to ensure our voice is heard," said Learning Lab II Co-Chair Ryan King. "Learning Lab II stirred a passion for policy-making in our class, and I am excited about the possibilities with our newfound knowledge."
The Learning Lab II experience is designed to allow Park Scholars to explore a national issue selected by the sophomore class. This year's trip was especially eventful for the Class of 2015 since it took place in the weeks leading up to the general election — the first election in which these students casted their ballots.
Learning Lab II Guest Speakers
Adam Belmar, Director of Communications, Quinn Gillespie & Associates
Betsy Bossart, District Director, Office of U.S. Representative Steny Hoyer (D-MD)
Chris Brown, Director of Digital Strategy, Quinn Gillespie & Associates
Austin Burnes, Floor Director, Office of U.S. Representative Steny Hoyer (D-MD)
Bill Buzenberg, Executive Director, Center for Public Integrity
Louis Jacobson, Senior Writer, PolitiFact and the Tampa Bay Times
Susan Garman Kranias, Senior Communications Strategist, Quinn Gillespie & Associates
Jim Manley, Senior Director of Communications and Government Affairs, Quinn Gillespie & Associates
Shaniqua McClendon, Legislative Aide, Office of U.S. Senator Kay Hagan (D-NC)
Danielle Sassoon, Law Clerk, Office of Supreme Court Justice Antonin Scalia
Laura Thrift, Legislative Assistant, Office of U.S. Representative David Price (D-NC)
Eric Tung, Law Clerk, Office of Supreme Court Justice Antonin Scalia