The Park Alumni Society (PAS) welcomed nearly 100 alumni back to NC State for the inaugural Park Alumni Reunion. Alumni traveled from locations such as California, Massachusetts, New Jersey, and Texas to attend the weekend.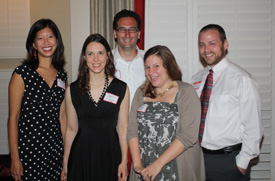 Members of the Class of 2000 — Michele Tam, April Wilson, Tommy Vitolo, Kelly Marks, and Terrell Russell (left to right) — at the Park Alumni Reunion Gala.
On Friday evening, a social was held for alumni and Park Scholars from the Class of 2013 at the Busy Bee Cafe in downtown Raleigh. Saturday morning commenced with remarks by Chancellor Randy Woodson and Park Scholarships Director Eva Feucht '02; and included opportunities to participate in tours of the James B. Hunt Jr. Library and the Dorothy and Roy Park Alumni Center, and interact with current Park Scholars who have received Park Enrichment Grants and Park Alumni Society Study Abroad Travel Stipends.
"I am so happy to have been a part of such a great event that helped so many alumni reconnect with each other, the university, and the Park program," said PAS Voting Board Member Kim Roberts '01. "I had a wonderful time catching up with old friends and meeting other alums and current students."
The gala on Saturday evening was held at the North Carolina State University Club and included remarks from PAS President Kimberly Bloomfield '02. Guests included former Park Faculty Scholars Gerry Elkan, Sandy Kessler, and John Riddle. A picnic in Pullen Park on Sunday featured a special visit from Ms. Wuf and Howling Cow ice cream, and involved members from each of the current four classes of Park Scholars.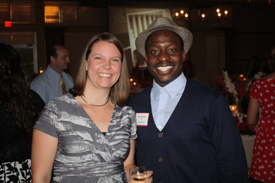 Kasey Phillips '08 and Isaac Owolabi '09 reconnect during the reunion weekend.
The PAS decided to host the reunion as part of their ongoing efforts to connect Park alumni with the Park Scholarships program and NC State University. Kim Roberts '01 and former PAS Secretary Kelly Marks '00 served as reunion co-chairs and had been working in conjunction with Allison Dodson from the NC State Alumni Association over the past year.
"During the planning process, it was truly eye-opening to learn about the exciting things happening with NC State and the Park program, so we felt it was important to share this news and provide alumni with an opportunity to give back to the Park program and support the university," says Kelly Marks '00.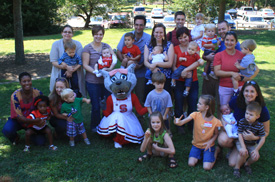 Park alumni and their families with Ms. Wuf at the picnic held in Pullen Park.
A number of other alumni contributed behind the scenes to ensure a successful reunion: PAS Vice-President Will Quick '07 was instrumental in securing the Hunt Library tour, Dan Amerson '01 spent Saturday evening in Pullen Park smoking meat for the picnic, Vinnie Feucht '11 served as a liaison with the chancellor's office, Maggie LaPlante '01 coordinated decorations for the gala, and Kimberly Bloomfield '02 supplied sweet treats for a number of the events.
"The Park Alumni Reunion weekend was a stunning success and would not have been possible without the support and planning of Park alumni, the NC State Alumni Association, and the Park Scholarships office," says Kimberly Bloomfield '02. "It made me proud to be an alumna of this wonderful program and so excited to see what is in store for the future."