Brandon Carlisle '13 is second co-author of a paper published in the journal Analytical Chemistry. An abstract of "Systematic Comparison of Reverse Phase and Hydrophilic Interaction Liquid Chromatography Platforms for the Analysis of N-linked Glycans" by Walker SH, Carlisle BC, and Muddiman DC, can be found on PubMed, among other databases.
Carlisle, a biological sciences major with a concentration in human biology, began exploring undergraduate research opportunities near the end of his freshman year. He connected with David Muddiman of the W.M. Keck FT-ICR-MS Laboratory, whose research is in the field of glycomics — the study of sugar modifications on DNA. While this lab's research lies primarily in the field of chemistry, its focus on ovarian cancer means it has significant applications to biology and medicine. Having lost a close family member to ovarian cancer, Carlisle found Muddiman's research compelling.
"I thought it would be amazing to work with and possibly have a hand in earlier detection and better prognosis for ovarian cancer patients in the future," says Carlisle.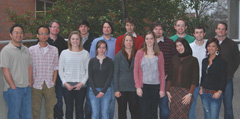 Brandon Carlisle (second row, second from left) with his colleagues from the W.M. Keck FT-ICR-MS Laboratory.
The paper Carlisle co-authored presents evidence to support that reversed phase chromatography, a method of analyzing the sugar makeup of certain diseases and cancers, is more efficient than other commonly used methods. The probability of finding a biomarker to detect ovarian cancer is greater when using this method, which hopefully will lead to a better prognosis for future ovarian cancer patients.
"Through this experience I have gained an appreciation for the work that goes into the development of screening and detection techniques that are so commonly used by physician assistants, physicians, and everyone involved in the medical community," says Carlisle, who is currently applying to physician assistant graduate programs.
In addition to pursuing undergraduate research here on NC State's campus, Carlisle gained firsthand exposure to the medical field by spending his summers as an emergency room patient care technician at Halifax Regional Medical Center. During the summer of 2011, he also spent a month in Buenos Aires, Argentina, where he lived with a host family, studied Spanish, and taught English to boys in an orphanage.
Carlisle plans to serve as a physician assistant in his hometown of Roanoke Rapids, North Carolina or a similar community, where he can serve rural and under-resourced patient populations.