According to the National Center for Education Statistics, the number of students enrolled in public charter schools more than tripled from 340,000 to 1.4 million between 1999 and 2009. During that period, the percentage of charter schools that were high-poverty schools increased from 13 to 30 percent.
In 2010, Hannah Whitaker '06 became a founding teacher at the SOAR Charter School, a school in Denver, Colorado that combines innovative approaches in the classroom with enrichment opportunities to foster socially responsible citizenship. Whitaker immediately began collaborating with education consultants and teachers to implement action-research and literacy projects to meet the needs of students at her school.
"Being a founding teacher means that you teach at a school in its first year," says Whitaker. "Founding teachers typically have more leadership opportunities and contribute to helping the school create its identity."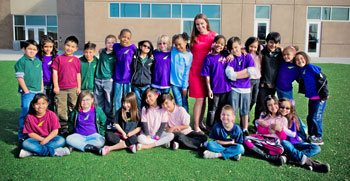 Whitaker with her students at SOAR Charter School.
Whitaker has demonstrated successful teaching practices through model lessons and continually enhances development instruction systems to encourage and engage students with unique learning, behavioral, and language needs.
Prior to her work in Colorado, Whitaker served as a community services legal coordinator with the nonprofit organization Opposing Abuse with Service, Information, and Shelter (OASIS, Inc.) in Boone, North Carolina. She worked with legal advocacy and coordinated services for victims of domestic violence and sexual assault.
Whitaker was also a first-grade teacher in the Bronx with Teach for America where she taught a creative group of English language learners. While working in New York, Whitaker pursued a master's degree in teaching English as a second language at Pace University. She continues to support Teach for America through involvement in training programs and as an alumni mentor for the National Lower Elementary Community.
"My passion and skills were an excellent match with Teach for America, as the organization focuses on addressing the achievement gap in our country," says Whitaker. "Each year, I inspired my students to love learning, to reach their potential, and to achieve reading growth and improved math ability by planning creative lessons and using innovative techniques."
As an art and design major with a minor in Spanish at NC State, Whitaker worked with Vietnamese and Sudanese refugees as an English instructor, studied abroad in Ecuador and Italy, and built houses with Habitat for Humanity in Honduras. She credits her passion for teaching English as a second language from her time in Ecuador working with rural indigenous communities and an experience in Mexico studying Spanish.
Whitaker plans to continue teaching at SOAR Charter School and serve as a trainer for teachers and staff. She is interested in transitioning to a coaching role and working as a consultant.
As a proud Park alumna, Whitaker will be joining the Class of 2013 on their senior retreat to Rocky Mountain National Park. While in Estes Park, Colorado, Whitaker will offer guidance to seniors as they prepare to embark on careers and further study after NC State.
"The investment the Park Foundation made in me to foster leadership, independence, ethics, and service has been invaluable," says Whitaker. "As a Park Scholar, I developed the skills and confidence to speak up for justice, pursue meaningful work, and confidently present myself as a leader."